I love a good story. I want the writing to be good, but I don't choose a book or recommend one for the writing or for the characters. I'm all about the story. I love The Light of the World by Elizabeth Alexander. It expanded my heart, and made me both happy and sad.
Elizabeth Alexander wrote this book after the sudden death of her husband, Ficre Ghebreyesus. Although their time together was prematurely cut short, they lived a rich life, which Elizabeth shares with the reader.
This book is about grief, but is so full of life. Love and the feeling of love permeates the story. The book made me smile and cry. It makes me want to be poetic in my review although I am not a poet. Perhaps this is due to the fact that Elizabeth Alexander is a poet, and writes this book in short chapters, a style that I enjoyed.
The most significant grief that I've experience is the loss of my grandmother, so I can't relate to the depth of feeling that Elizabeth conveys in her book. Yet, my own experience of grief lets me empathize in such a way that I find the experience of the reading of the book to be heart wrenching.
The chapter on grieving without a religious tradition spoke to me. I do have a religious tradition and a different current religious practice, and yet find that figuring what to do and how to grieve is difficult, and all the advice in the world doesn't make it easier. I imagine that the rituals and customs of grieving provide some solace by giving purpose and direction to grieving, but it doesn't stop you from imaging that your loved one is still alive, and it doesn't fill the hole that lodges in your life and in your heart.
Most beautiful moment: Simon takes his mother to visit his father in heaven. I smiled through my tears.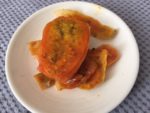 Connection: I had never heard of the prickly cactus pear (fichi) before, and may have seen them in the store, but never bought one. The day after finishing this book, I was at a supermarket and there were prickly cactus pears on sale. I bought one and enjoyed eating it. It tasted like papaya and persimmon, but sweeter, although the abundance of seeds were annoying to me. I'm sure that the experience was nothing like picking and eating the fresh fruit in Italy, but I love the fact that reading the book inspired me to try the fruit.